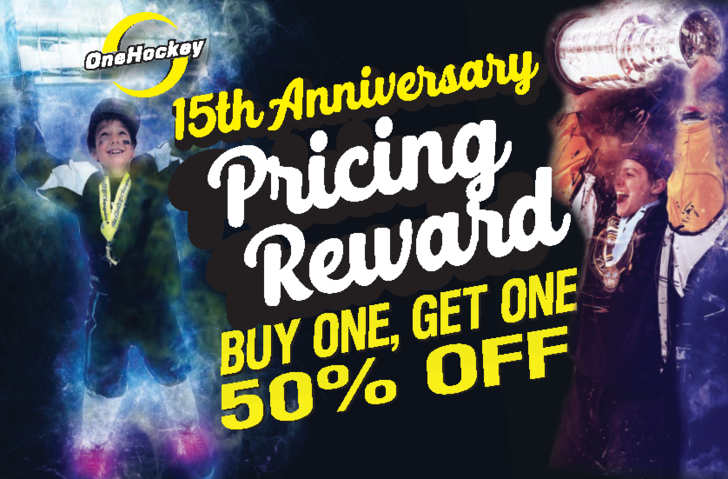 BUY ONE GET ONE HALF OFF TOURNAMENT PROMOTION - 15th ANNIVERSARY CELEBRATION
OneHockey tournaments for the 2020-2021 season are Buy One Get One Half Off. Tournaments to choose from in AB, OH, MN, PA, NC, NY, IN, MI and WI. Save TIME AND MONEY by selecting OneHockey tournaments for your team!
CLICK TO BE TAKEN TO
Limitations and Exclusions
• Teams must register for at least 1 "out of town" tournament. Out of town means that your team is located outside of a 70 mile radius from the tournament.
• This offer excludes any tournaments in California.
• This offer excludes 8U (Mites) level teams, as they are already specially priced.
• The player roster for both tournaments must be the same.
• OneHockey hotel policies apply to ALL registrations for the Buy One Get One Half Off Promotion.
• OneHockey tournaments are "Stay to Play" meaning if a player lives outside of a 70 mile radius from the rink, they are required to stay at a participating hotel offered through GameTime Travel and the hotel accommodations must be booked using the GameTime Travel System.
No discounts, coupons, rooms booked on points, or other hotel rates may be used by tournament guests.
• A minimum of $500 deposit is required for each tournament at time of registration.
• If the two tournaments chosen do not have the same entry fee, the discount will be taken off of the tournament with the lesser value.
• This offer cannot be combined with any other offer such as multiple team discounts, association discounts or Canadian pricing discounts.
• To receive the half off discount, you must register by following the guidelines below:
• Register at www.onehockey.com for your first tournament (if there is a price difference, please register for the more expensive one first) and pay the $500 deposit or pay in full.
• Register for your second OneHockey tournament and pay either the $500 deposit or pay in full the HALF PRICE fee option.
This option should only be selected if it is your SECOND tournament you are registering for.
**Any questions, please consult with your OneHockey Sales Representative.